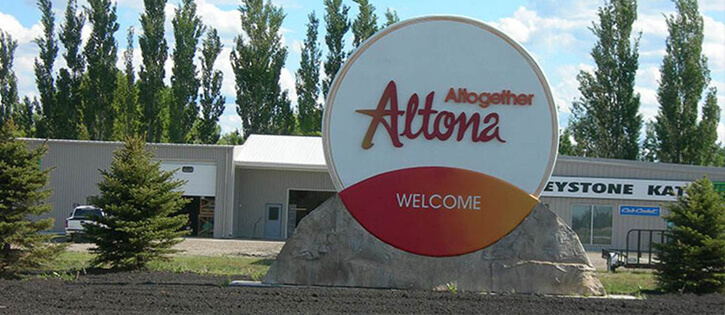 Canada PR in 2020 through Altona/Rhineland RNIP
Located in southern Manitoba, Altona/Rhineland is one of the communities participating in Canada's Rural and Northern Immigration Pilot [RNIP]. While initially scheduled for a March 2020 launch, the RNIP was launched on May 15, 2020.
The Rural and Northern Immigration Pilot will run from May 15, 2020, to May 14, 2023.
The Rural and Northern Immigration Pilot of the Government of Canada offers a pathway to Canadian permanent residence to skilled foreign workers that are willing to live and work in any of the 11 communities participating in the Pilot.
The Pilot is specifically designed with the aim of supporting the economic development in the 11 participating communities from 5 provinces in Canada, strengthening the capacity of the local businesses to develop as well as retain a skilled workforce.
Communities participating in the RNIP –
| | |
| --- | --- |
| Community | Province |
| Claresholm | Alberta |
| Vernon | British Columbia |
| West Kootenay [Trail, Castlegar, Rossland, Nelson] | British Columbia |
| Thunder Bay | Ontario |
| North Bay | Ontario |
| Sault Ste. Marie | Ontario |
| Timmins | Ontario |
| Sudbury | Ontario |
| Brandon | Manitoba |
| Gretna-Rhineland-Altona-Plum Coulee | Manitoba |
| Moose Jaw | Saskatchewan |
Of these, 9 out of 11 – that is, except Moose Jaw and North Bay – are accepting RNIP applications.
Any foreign national interested in applying for the Altona/Rhineland RNIP will have to meet the Government of Canada's Eligibility Criteria as well as the Community Specific Criteria.
Community specific requirements for Altona/Rhineland RNIP
To be eligible for a community recommendation by Altona/Rhineland under the RNIP, the candidate must have the "Intention to Reside" within the boundaries of the Town of Altona or Municipality of Rhineland. As per Section 7 of the Canada Gazette, Part I, Volume 153, Number 33, "the applicant must intend to reside in the community or within a reasonable commuting distance of the community".
The eligibility of every candidate applying for the community recommendation will be assessed taking into consideration certain priority factors as per the Comprehensive Priority Points Grid.
It is the highest-ranking candidates that will move onwards onto further assessment that will also include applicant interviews for establishing their intention to reside in the community.
Altona/Rhineland RNIP – Comprehensive Priority Points Grid
Criteria
Points awarded
Qualifying job offer in Agriculture and Manufacturing
20
Qualifying job offer in Construction, Food Processing, and Financial Services
10
Job offer either
From an established employer that has been operating business within boundaries of the community for at least 10 yearsORWith a business that has invested at least $250,000 capital within the community
10
Job offer from an employer that will provide the candidate with a workplace mentor for at least 6 months
5
Job offer in National Occupational Classification [NOC] skills A or B. That is, in NOC A or NOC B.

NOC A – professional jobs usually requiring a university degree. For example, doctors.

NOC B – technical jobs and skilled trades usually calling for a college diploma or an apprentice training. For example, electricians.

10
Job offer in National Occupational Classification [NOC] skills C.

NOC C – Intermediate jobs usually requiring high school education and/or training specific to a job. For example, long-haul truck drivers.

5
Possessing a valid driver's license from their country of origin
5
Having lived as an adult in a community with a population of 10,000 or less, and located within 1 hour's travel distance from a densely populated large urban area for at least 6 months
5
A family member – parents, children, or siblings – that is a Canadian PR/citizen and has been living within the community boundaries for at least 2 years
20
A family member – grandparent, uncle, aunt, niece, nephew, cousin – and/or a friend that is a Canadian PR/citizen and has been living within the community boundaries for at least 2 years
10
Having previously spent 1 week or more in Altona/Rhineland
5
A spouse/common-law partner that has work experience for filling labour requirements in certain specified sectors –

Technology
Healthcare/Hospital
Education
Pharmaceuticals
Construction
Manufacturing
Retail
Food Processing
Agriculture
Financial Services
Transportation
Social Services

10
A spouse/common-law partner with post-secondary education that could fill labour requirements in certain specified sectors –

Technology
Healthcare/Hospital
Education
Pharmaceuticals
Construction
Manufacturing
Retail
Food Processing
Agriculture
Financial Services
Transportation
Social Services

10
Age of candidate between 25 years and 38 years on the date that the application is received for community recommendation
10
It was through a Press Release dated June 14, 2019, that Supporting Entrepreneurs through Economic Development [SEED] announced that the "Rhineland, Plum Coulee, Gretna, Altona [RPGA] region will be partnering with the Government of Canada to participate in the Immigration, Refugees and Citizenship Canada's Rural and Northern Immigration Pilot."
According to Don Wiebe, Reeve of the Municipality of Rhineland, "Rhineland and the Town of Altona have a long history of welcoming newcomers and integrating both immigrants and refugees into the social fabric of the community. It is my belief, that this immigration pilot will transform our community and business sector."