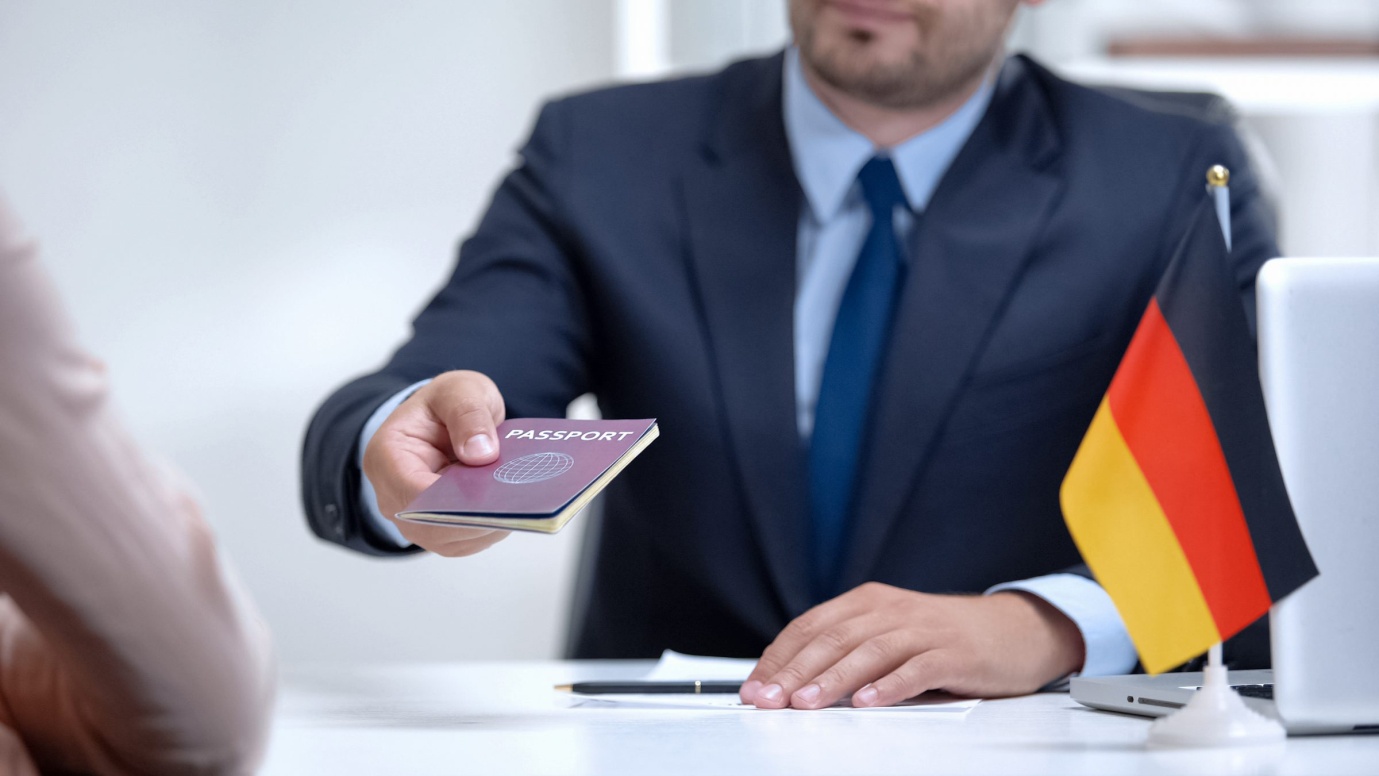 Employee Benefits in Germany
Social Security
In Germany, employees belong to the national social security system by law. The statutory social security system is regulated in the Social Security Codes. It covers the following principal areas: health insurance, unemployment insurance, nursing care insurance, pension and accident insurance.
All salary payments are subject to tax and social security contributions (pension, unemployment, health and nursing care insurance). These must be withheld from an employee's salary by the employer and paid to the respective institutions.
In general, the employer and the employee each pay half of the social security contributions, and employers must pay their share in addition to the salary, based on the employee's gross salary with certain maximum amounts applying. Contributions to the employee accident insurance are made solely by employers.
Healthcare and Insurances
The employee can choose between different statutory health insurance. Only employees with an income exceeding the annual remuneration thresholds (62,550 EUR in 2020 / expected to be 64,350 EUR in 2021) are exempt. They can become members of private health insurance. In both cases, the contributions are shared equally by the employer and the employee.
Holidays and Annual Leave
The number of public holidays varies from one federal state to another across Germany; although the minimum is 10 (e.g. Berlin, Lower Saxony) there may be as many as 12 public holidays (Bavaria, Saarland).
Every employee is entitled to annual leave of 20 days, based on a 5-day-week. This means that an employee can claim an annual leave of four weeks in a calendar year. However, most employers grant a longer annual leave; depending on the industrial sector, between 25 days and 30 days.
Maternity and Paternity Leave
Female employees are entitled to paid maternity leave, which is the time period 6 weeks before and 8 weeks after giving birth. The maternity leave after birth has been extended to 12 weeks in case of multiple births, premature births, and disabled children. Payments to the employee during this period are made partly by the statutory health insurance provider and partly by the employer.
After the birth of a child, both male and female employees are entitled to a maximum of three years' parental leave per child. During this period, the employer is not obliged to make any payments to the employee. After the expiry of the parental leave, the employee returns to their previous position.
Under the Maternity Protection Act, pregnant employees as well as apprentices, interns, and students undertaking a mandatory internship enjoy special protection against dismissal during pregnancy and for four months after birth.
The employer is obligated to carry out a risk assessment not only for work performed by pregnant employees but for all work conducted within the company. Necessary measures to protect pregnant employees must be implemented immediately after the employer was made aware of a pregnancy, and the employee must be offered an opportunity to discuss (further) adjustments to her working conditions.
Other Required or Typically Provided Leave(s)
Any leave, other than the abovementioned statutory leaves (e.g. compassionate leaves, leave when moving) is subject to individual negotiations or is typically part of collective bargaining agreements/works council agreements.
Pensions: Mandatory and Typically Provided
The public retirement insurance system, company pension plans, and private individual retirement investments are the three pillars of the German pension system. Public retirement insurance has always been "pay-as-you-go", with the current pensions of the retired paid from the current premiums of the not yet retired. In view of demographic changes, pension payment levels are becoming difficult to maintain. Company pension plans have traditionally been designed to supplement statutory retirement insurance. Though company pension plans are not compulsory, they cover about three-fifths of the working population. The third pillar, individual retirement investments, is becoming more important and is subsidized by the government. Retirement used to begin at age 65 but is now gradually being increased to age 67.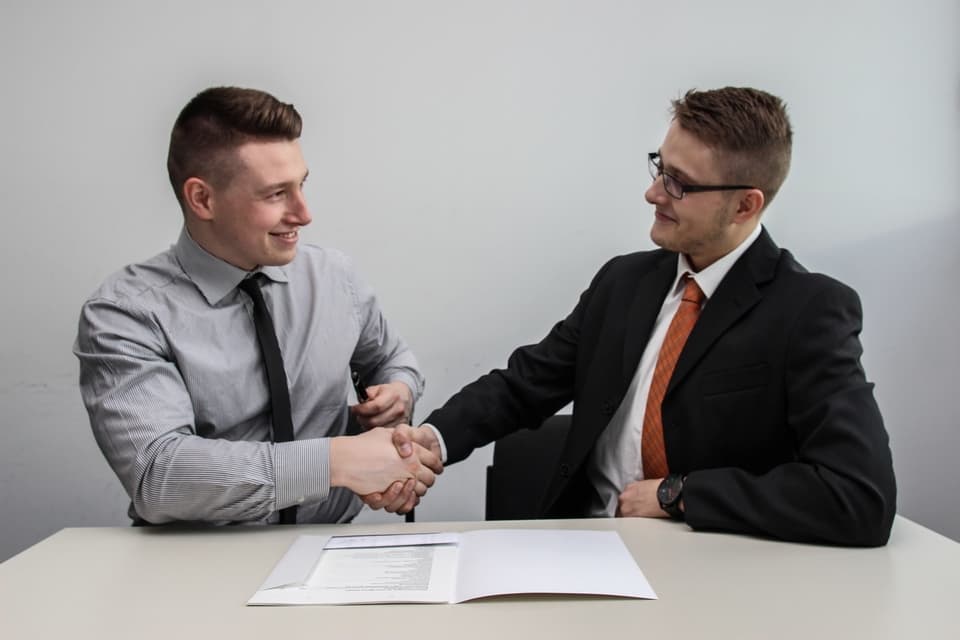 What are the benefits of working in Germany?
Working hours – 48 per week
Paid leaves – 42 per year
High average salaries
Work-life balance
Social security benefits
The benefits of working in Germany are it has a fast-growing economy, there are numerous job opportunities in the IT, engineering, and manufacturing sectors. Compared to other countries the country provides fair wages and salaries. And the German government is making consistent efforts to bring foreigners into the workforce.
Here are some significant benefits of working in Germany:
Average salaries
The average salary in Germany comes to about 58.800 Euros according to the Stepstone Salary Report by Stepstone an online job portal in Germany. Another report by XING an online job portal puts the annual salary at 70,754 Euros but this includes bonuses, holiday and Christmas allowances.
The salaries can vary based on the industry, region, and size of the company. The Stepstone report says that large companies with over 10,000 employees pay the highest salaries in Germany which is 27 percent above the average salary.
The average gross salary for medium to large-sized companies with employees between 5000-10,000 employees is 17 percent above the average while those for small companies that have between 1000 to 5000 employees, the average salary exceeds by 12 percent.
When compared to other countries in Europe, the average salary in Germany is quite high. Here is a table showing the salaries in Germany compared to other countries in Europe for similar positions: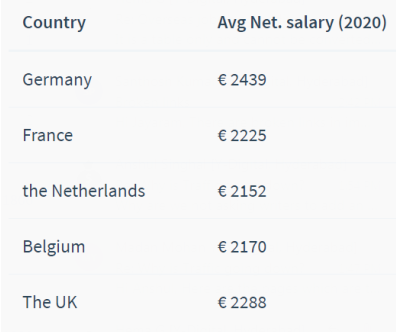 There is also a statutory minimum wage offered to workers so that no one is subject to low and unfair wages. In January 2020, the minimum wage was 9.35 Euros per hour.
There can be variations in salary based on one's education and work experience.
Attractive employee benefits
Workers are paid competitive salaries in Germany. They earn benefits such as paid sick days of up to six weeks, paid holiday time of up to four weeks a year, and maternity and parental leave of up to one year. Even if you have to pay a higher rate of income tax, this is offset with social benefits.
Welfare benefits for employees
German companies are focused on improving their employees. They invest in employee training and growth. So, when you come here to work you should look forward to developing your technical skills.
Employees are not discriminated based on age, gender, race or religion. Companies here are focused on paying fair wages to employees.
Social security benefits
Germany has an elaborate social security system that sees to it that its citizens live comfortably even if they're sick, disabled, unemployed or retired. There are different insurance categories for which both employees and employers contribute. It is compulsory to have medical insurance.
Germany has relatively high level of income tax as given in the table below:

The high level of taxes is justified by the fact that the government gives you a lot of benefits in return.
As a German employee, you will contribute about 20% of your income to the key social security funds, with your employer matching the remaining 20%! Here are the details of the funds:
1. Pension Fund: Once you reach the age of 65, you have the option to retire and earn up to 67 percent of your gross salary prior to retirement. Don't worry, if you move to another country as an expat, you'll still be eligible for the pension you have accumulated in Germany.
2. Health insurance: You will be enrolled in a public health insurance fund by your employer.
3. Unemployment insurance: You will be contributing to the unemployment fund while employed. This fund helps you to register with the German Labour Office if you've lost your work and earn a portion of your previous salary. The sum you get and how long you get it depends on your age and how long you've worked.
4. Accident& sick pay insurance: This insurance protects you if you become sick at work, or if you are injured in an accident. This insurance should cover the care as well as ensure that you are covered during your rehabilitation or earn a pension if you become disabled.
5. Disability insurance: You also make a small donation to the state's disability fund, which helps people with disabilities stay in the workforce or provides them with income when they are (no longer) able to function. People with natural disabilities, wounded war veterans, and victims of violent crimes are all covered for by this fund.
Work-life balance
The companies here follow a five-day workweek giving their employees more time to spend with their families and other personal activities. There is no expectation for employees to work extra hours or during non-office hours.
Easy process to obtain a work permit
The German Government has made it simpler to obtain a work permit in Germany to encourage foreign workers. As a non-EU citizen, you can apply for a work visa or apply for a Blue Card to work in Germany. You can explore the various visa options to work in Germany.
Opportunities for your family
You can bring your family members to Germany once you have a work visa and a residence permit. Your family members will be eligible for work and study opportunities in the country.
You and your family members will be eligible for social security benefits which will include insurance and pension benefits.
Attractive work benefits, social security benefits, low cost of living and a good work-life balance are good reasons to work in Germany.