Study in Ireland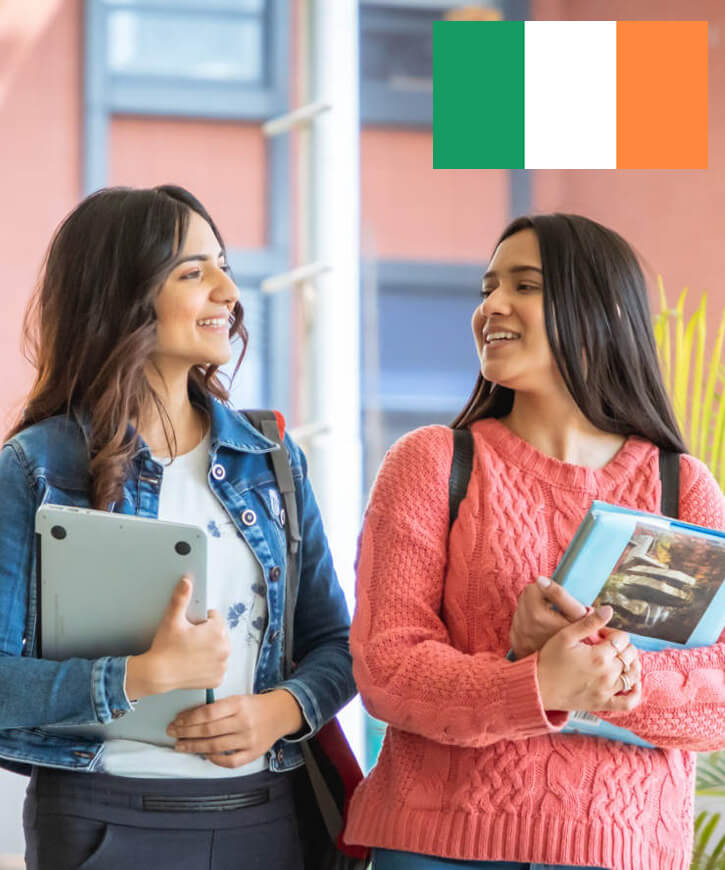 Ireland is a member of the European Union and a vibrant, modern country with a youthful population. If you want to study in Ireland, you will be a part of one of the world's fastest growing economies. In addition, the country has the best quality of life in the world, according to the Economist Intelligence Unit's Quality-of-Life Index. Ireland has ranked first on a list of the World's Most Friendly Countries.Study in Ireland for Indian students creates a unique opportunity for them at the undergraduate and postgraduate levels to join research programs that are driving innovation and changing lives worldwide. It has one of the best education systems in Europe with a rich history in tradition and learning. The quality education imparted has led to the rapid growth of the economy. Ireland is also where some of the world's biggest and best companies have located key, strategic research facilities.
Indian students in Ireland are presented with the opportunity to be participants of some of the best universities in the world. Ireland is a country where traditions, religion and history play a pivotal role in everyday life, as well as in the nation's self-perception. Ireland is also home to some of the finest higher education institutions. It stands in the 8th place in the world for the number of universities in the list of Top 500 universities. If you choose to study in Ireland by the way of earning a Master's in the exciting Irish cities, you will be able to choose from a great variety of universities, colleges and business schools.
The main reason for Indians going in Ireland is to Study in Ireland, MBA in Ireland, Study abroad is Ireland as an English-speaking country with a long tradition of providing education for international students.
There are many specialist centers at Irish universities and Institutes of Technology, which have cutting-edge facilities and technologies to provide the skills and training that students need for access to 'high-value' employment after graduation. Study in Ireland, Student visa Ireland, Student aboard in Ireland, Study visa for Ireland
Ireland offers a modern and multifaceted education system, which combines the best parts of Ireland's rich heritage with its thriving, technologically adept society and a unique perspective on the future
Colleges
Courses Available
Accounting & finance Arts
Business & Management Law
International Technology
Media & Journalism
Cloud Computing etc
Scholarships
International Graduate Academic Scholarships: Up to Euro 1500
Higher education institutions offer courses in Ireland for Indian students in a broad selection of programs that include
Accounting
Agriculture, Food & Nutrition Nursing
Bio Technology
Business
Computing
Design
Finance and Economics
Health Informatics
Hospitality and Tourism
Hotel Management
Information Technology
Journalism
Mathematics and Statistics
Medicine
Pharmacy
Physiotherapy
Product Design and Technology
Production Management
Psychology Science
Social Science
Software Engineering
Sport & Performance
Tourism Marketing
Veterinary Medicine
Tuition Fees
Tuition fees to study abroad in Ireland vary depending on the institution and the study programme. An example of tuition fees for 2019/2020 for undergraduate and postgraduate, non- E.U. students at a third level institution are as follows:
| Course | Average Fees (Euro) |
| --- | --- |
| Medicine and related | € 12,035 – € 51,635 |
| Engineering | € 10,000 – € 21,600 |
| Science & Technology | € 10,000 – € 21,600 |
| Business Related | € 10,000 – € 30,000 |
| Arts and Humanities | € 10,000 – € 20,000 |
Cost Of Living
On an average, study in Ireland for Indian students should count approximately between €8,000 and €12,000 per year as living expenses, this depends on the location and lifestyle.
Accommodation
Third level students: The higher education system in Ireland is called as Third level education or tertiary education.
Most third level institutions have on-campus student residences, often resembling small villages with on-site facilities such as shops, launderettes, restaurants etc.
As study in Ireland consultants, another popular option that students increasingly seek in the main cities is self-catering rented accommodation, often shared with other students. Students opting for this kind of accommodation are advised to arrive in the country two or three weeks prior to the start of the academic year in order to secure a place in a house/apartment.
Some third-level students opt for host family accommodation.