Study in Australia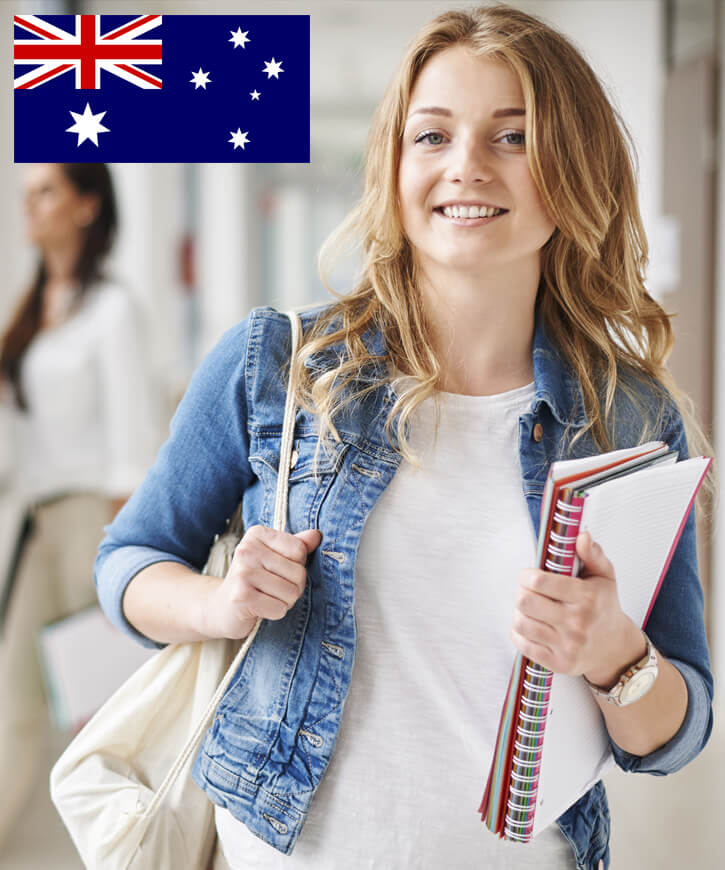 Although studying abroad is costly, Australia can be a better choice when compared to USA,. It has excellent living standards, and a multicultural culture. Higher education institutions in Australia are among the best in the country. Indian students who study in Australia receive a CRICOS code, indicating that their education is internationally recognized. In terms of higher education. Higher education in Australia, provides value for money by offering shorter and more intensive courses, they quickly incorporate latest innovations in science & technology, modern trends in marketing & management. If you have decided to study Masters in Australia, the duration for the course is between 1, 1.5 to 2 years and an Indian degree of 12 +3 is also accepted. The Streamlined Visa Process is straightforward and fair.
The education system in Australia is top-notch and there are many courses offered through specialist institutions and universities.
Study in Australia for Indian students can either be undertaken on a full-time or part-time basis which allows students to study according to their own schedule. Many students seek courses in Australia in the field of Hospitality, Education, Business Administration, Information Technology, Health, Management, and Finance, to name a few.
A large number of students decide to study MBA in Australia.
Institutions in Australia offer a wide variety of courses and degrees ranging from:
Agriculture : Agriculture, Forest, Horticulture Business
Administration And Law : Economics, Accounting, Commerce, Management, Administration, Marketing, Finance, HR
Education : Education Studies, Teaching, Early Childhood, Special Education
Engineering : Chemical, Civil, Electrical, Electronics, Structural, Mechanical, Automotive, Aeronautical, Mining, Industrial, General Engineering, Computer, Telecommunications, Mechatronics, Polymer, Environmental
Health Sciences : Nursing, Nutrition, Environmental Health, Personal And Family Health Care, Pharmacy, Veterinary Science, Public Health, Physiotherapy
Hospitality & Tourism : Hotel Management, Tourism Management, Commercial Cookery
Humanities : English, Philosophy, History, Foreign Language Studies, Psychology
Mathematics And Computing : Mathematics And Statistics, Computer Based Information System, Computer Science
Science : Science Pharmacology, Chemistry, Environmental Science, Biotechnology
Visual And Performing Arts : Art, Graphic Arts, Fashion Design, Crafts, Performing Arts, Music
Communications : Public Relations, Corporate Communication, Media, Journalism
IT : Networking, Information Technology, Information Systems, Security, Software Development
Social Studies : Geography, Behavioral Studies, Welfare And Counseling, Sport And Recreation, Sociology
Industries
Australian Industries work side by side to encourage and sustain economic activity. The national income comes from industries like Education, Agriculture, Finance, Hospitality, Manufacturing, Construction, Business services, Technology, Tourism etc.
Fee Structure
Under Graduate Studies
Universities
16,000.00 – 27,000.00 AUD$ per year
Colleges
13,000.00 – 17,000.00 AUD$ per year
Post Graduate Studies
Universities
Bt. 17,000 .00 – 28, 000.00 AUD$ per year
Colleges
Bt. 15, 000.00 – 21,000.00 AUD $ per year
Living Expenses as per the Australia High Commission visa guidelines:
Living (Applicant)
18,000.00 AUD per year
Living (Spouse)
6,300 .00 AUD per year
Living (Child I)
3,600.00 AUD per year
Living (Child II)
2,700.00 AUD per year
Further if the child turns 5 year in Australia, the schooling funds
Work And Migration
If you study Masters in Australia or complete 2 years of study in Australia a Skilled-Graduate Visa which is an 24 months visa will be given to you.
During this time, the student can work full time or improve their English or gain additional points for General Skilled Migrant Policy for PR.
Skilled Graduate Visa Holders can apply for any of the following visa categories within the 18 months duration.
Provisional Skilled – Regional sponsored visa (Subclass 487)
Permanent Skilled – Independent visa (Subclass 885)
Permanent Skilled – Sponsored visa (Subclass 886)
Or they can also apply for an employer sponsored visa at any time.
Part Time Employment
Students can work part time – 40 Hrs / fortnight during course sessions and full time during vacation and holidays.
On an average a student can earn around 15-16 AUD/hour. Casual Jobs are available (A$15-20 per hour) as PT work option.
Post Study Work Right
a) Bachelor and Master by course work who have spent at least two academic years studying that degree in Australia to get two years PSW rights
b) Master by Research – three years PSW rights
c) PhD graduates to receive four years of PSW rights
Study in Australia for Indian students is of excellent value and high-quality education at very competitive costs. International students are charged up-front tuition fees. These costs will vary depending on the course or institution; therefore, average costs are provided below and should only be used as a guide. Australian university fees vary from about A$19,000 for a Graduate Certificate to A$28,000 per year for a Doctorate Degree. The more expensive courses usually have strong laboratory or computer components. Australia's vocational education and training providers offer a great variety of courses.
In spite of providing quality comparable to the best, the cost of study in Australia is comparatively much lower to that in UK and USA. Higher education in Australia provides value for money by offering shorter, more intensive courses than those that are available in other countries, thereby reducing living expenses.
Figures shown are estimated annual tuition fees in Australian Dollars Duration of Course, Undergraduate 3-5 yrs, Postgraduate 1-2 yrs UG Fees approx A$ 22000- 24000 & PG fees approx A$ 25000-30000
Types of Accommodation
On Campus: College hostels (self-catered or fully catered)
Off Campus: Renting a flat/apartment
Home stay: With the Families near the institution
Early application for accommodation arrangements are advisable
Living Cost in Australia
As study in Australia consultants, we estimate that an average international student in Australia spends about 18610 AUD/year on accommodation, food, clothing, entertainment, transport, international and domestic travel, telephone and incidental costs. While this is a realistic guide, it is important to remember that individual circumstances will vary by location, course and lifestyle.
Intakes
Australia generally has two intakes i.e. February and July, with few Universities offering multiple intakes in September & November. It is suggested that you should start making applications ideally 7-8 months prior to the intake. Universities generally take around 4-6 weeks to process the applications.
Health Insurance
lt is compulsory for all international students to have an Overseas Student Health Cover (OSHC) for themselves and their dependents, where applicable, for the intended period of stay. The premium for OSHC is to be paid once you accept the offer. The current cost for OSHC ranges between AUD 650-750 approx per annum depending on the duration of your studies.
Documents Needed
Documents needed for making an application to study in Australia for Indian students are:
Updated Resume
Statement of purpose
Attested copies of 10th, 12th and graduate mark sheets
Passing certificates from 10th onwards
Two reference letters from colleges / employers
Passport copy or birth certificate
IELTS / PTE / TOEFL score sheet.
Entry Requirements / Eligibility
Undergraduate – Bachelors
A good academic record in High School Certificate or 12 years of schooling
Some courses such as Computing and Engineering will require Mathematics and /or Science as pre-requisites
0 IELTS / 79 TOEFL / 50-58 PTE
Postgraduate - Masters
A good academic record in Bachelor's Degree from a recognized university is necessary.
Any work experience in the field will be helpful.
To study MBA in Australia some Universities may require students to have work experience along with their Bachelor's Degree
6.5 IELTS / 90 TOEFL / 59-64 PTE
Study in Australia for Indian students, includes certain important things that they should know such as what visas to apply for and requirements for the visa application, your obligations while in Australia and information about complying with the conditions of your visa.
There are various types of visas available for visiting Australia. The type of visa that you may be able to get depends on a number of factors such as, the length of your stay, your passport, your current location and the purpose of your visit.
As Australian education consultants we bring it to your attention that if you intend to study in Australia, you will need to apply for the student visa (subclass 500).
There is specific information for Foreign Affairs and Defense sponsored students and school sector students. There is more information for students including genuine temporary entrant requirements, health insurance, English language requirements, financial capacity requirements and changing courses. You might be able to package your courses if you would like to study more than one course.
Eligibility
Before you apply for this visa, you must have: Been accepted to study full-time at an educational institution in Australia Organized appropriate welfare arrangements for the duration of your intended stay in Australia if you are under 18 years of age
Visa Process
Step 1 – Gather documents
Step 2- Prepare your documents
Step 3 – Payment
Step 4 – Apply for the visa
Step 5 – Provide additional documents required
Step 6 – Track and manage your application
Step 7 – Visa decision
Expert Guidance @ +91 9605418811, write to us @ studies@jagroup.info