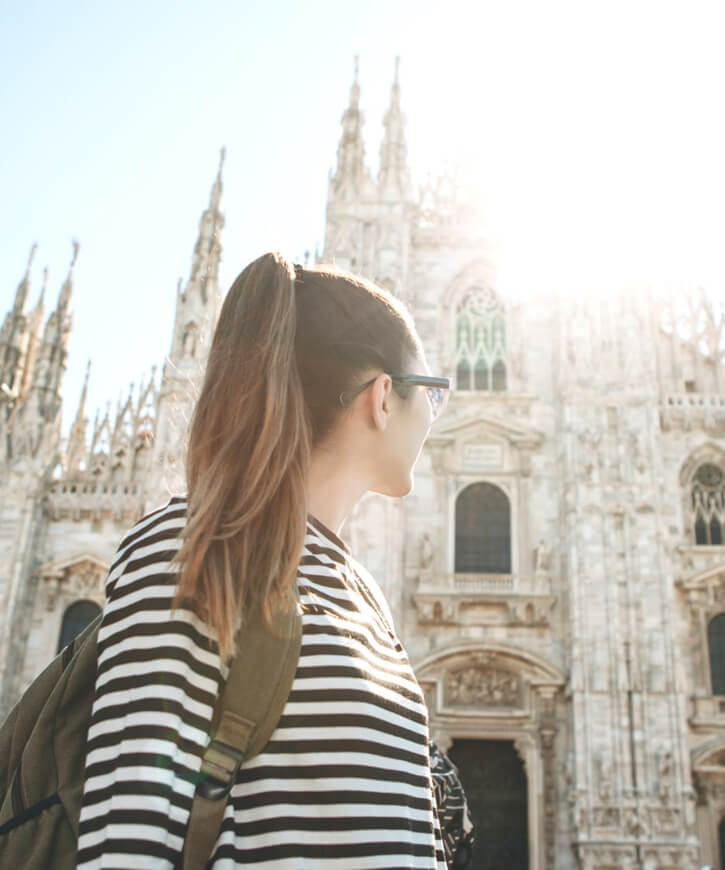 Italy is praised for its unique people and its excellent geographical and demographical conditions. Sitting right at the meeting point between the Eurasian and African plates the beautiful country has its northern end in the laps of the Alps and its southern end embracing a mesmerizing coastline.
Italy is officially known as the Italian Republic and is a unitary parliamentary republic in the European continent. Most of this country's geographical exuberance and aesthetic is at the heart of its peninsula that extends into the Mediterranean sea.
Italy shares an open land border with France, Switzerland, Slovenia, Austria, San Marino, and the Vatican city. The country covers an area of 301,338 square km.
It mostly experiences temperate and Mediterranean climate. The present population of Italy is 60.57 Million with majority percentage of its citizens being of Italian descent and other being non-natives comprising of 8.5% of the total population. The country is the 4th most populous among all the EU member states.
Italy is also the global center of history and culture and has more than 53 world heritage sites which is evidently more than any other nation. It is interestingly the fifth most visited country in the world.
Over 50 million tourists visit the country every year and the money generated constitutes over 60% of Italy's national income.
Italy is one of the founding states of the European Union and is also a member of the G-8 countries, hence has adopted the EU Euro (€) currency and is a crucial trade and economic partner to other EU member states.
The main language of Italy is Italian which is widely considered as a romantic language descending from Latin. However, many regions in the country have their own dialects that are equally significant in their vocabulary and grammar.
The capital of Italy is Rome which is its largest city as well. It has been the capital since 1871 and is over 3000 years old. Italy is famous for its sports, art, music, and culinary art that witnesses prolific regional variants throughout the country.
Tution Fee & Cost of living
The cost of both learning and living in Italy varies as per the region and the institute, but there is a general consensus that Italy is not as expensive as what you'd expect from any developed and thriving European country.
Tuition fee in Italy is generously affordable when compared to other countries in Europe. This alone has made many schools in Italy very attractive to a large section of higher education students.
Tuition is subsidized and sometimes free for Italian and EU citizens, but non-EU students can expect to pay circa. €800 to €5,000 for an academic year in any government institute.
Private universities are expectedly highly-priced than the others for obvious reasons.
The cost of private school education ranges from €6,000 up to €20,000 averagely for one academic year.
Please note that these prices are very flexible and vary across universities and regions in Italy.
The average living cost for a student in Italy is between €400 – € 800 per month for accommodation, food, and transportation. As with many cities in the world, bigger cities are considerably more expensive than smaller cities.
In Italy cities like Rome, Bologna and Milan have a higher standard of living than smaller areas like Turin, Cassino, and Verona.
Housing in Italy for students are either shared or private, shared housing can go for €150 to €300 per month and individual housing can cost €200 to €500 for a month's stay.
Utilities such as gas, electricity, water and waste services typically cost €50 to €70 depending on the usage. Internet services are very low in Italy and usually cost €30 and can be cheaper if shared among roommates.
Transportation in Italy is very organized and well managed, buses, taxis and trains are common transport options among Italians. A bus ticket costs €1.20 and lasts for an hour from the time it is validated.
There are also monthly bus passes for €22 or even less for students.
Taxis are very good commute means and have been heralded for being cheap and effective.
On an average they cost about €10 – €30 depending on the frequency. Trains have an average cost of €80 – €100 per month depending on the distance of travel.
Food and drinks cost €8 to €20 approximately and a normal dinner in a restaurant in many cities in Italy goes for €15 to €35 per meal for an individual. Public laundry like washing and drying services cost €3.50 on average.
Available Programs in Italy
Economics & Business
Economics & Management
Sustainable agriculture for food quality Environments
International Business administration – International Business Economics
Media & Performing arts – Communication & DAMS
Economic Management & Computer Science
International Economics and Finance
Business(World Bachelor in Business)
Economics & Social Science
International Economics & Management
International Politics & Govt.
Business and Economics/ Economics and Business Management
Economics and Finance
Geonomics
Business Administration & Economics
Global Governance
Engineering Sciences
pharmacy
Business & Management
Mechanical engineering
Automobile engineering
Mechatronic engineering
Architecture
Digital Management
Philosophy International & Economics Studies
Business Administration & Management
Physiological Sciences & Techniques
Obstetrics
Bio-Medical Lab Techniques
Physiotherapy
Nursing
Radiology, Diagnostic, Imaging and radiotherapy techniques
Psychological Science
Animal Care
Bio Informatics
Bio Science & Biotechnology
Geological, Natural & Enus sciences
Automotive engineering
Computer engineering
Philosophy International & Economics Studies
Psychological sciences and techniques
dentistry
Medicine and surgery
Studying in Italy is a very different and unique experience. Independent learning and practice are much promoted,
Students in STEM are taught under more strict conditions and have term projects and are molded toward research. STEM students have different activities that are very controlled and organized.
The system of lectures for the most part of the academic year and then exams at the end, students get some free time on their hands and can use this to learn with textbooks suggested by the department.
Student life is not all work and no play, Italy is a very beautiful country to live in, many universities have field trips for their students. These adventure trips showcase the history, architecture, and wonders of Italy.
Traveling and food are some major components of a typical student life in Italy.
Another great component of being a student in Italy is the chance to learn a new language and culture. Since sports is a very huge component of the Italian lifestyle, students quickly adapt to the exciting atmosphere and all its interesting quirks. Football culture has also become to be much loved by many foreign students in the country.
Funny but also exciting is that students also fall in love with the food of Italy, staples like pasta, pizza, and the famous Gelato; which is what Italians call ice cream.
The flavors and types of these very popular Italian foods are different and many, some of which cannot be found anywhere else besides from Italy.