Study in USA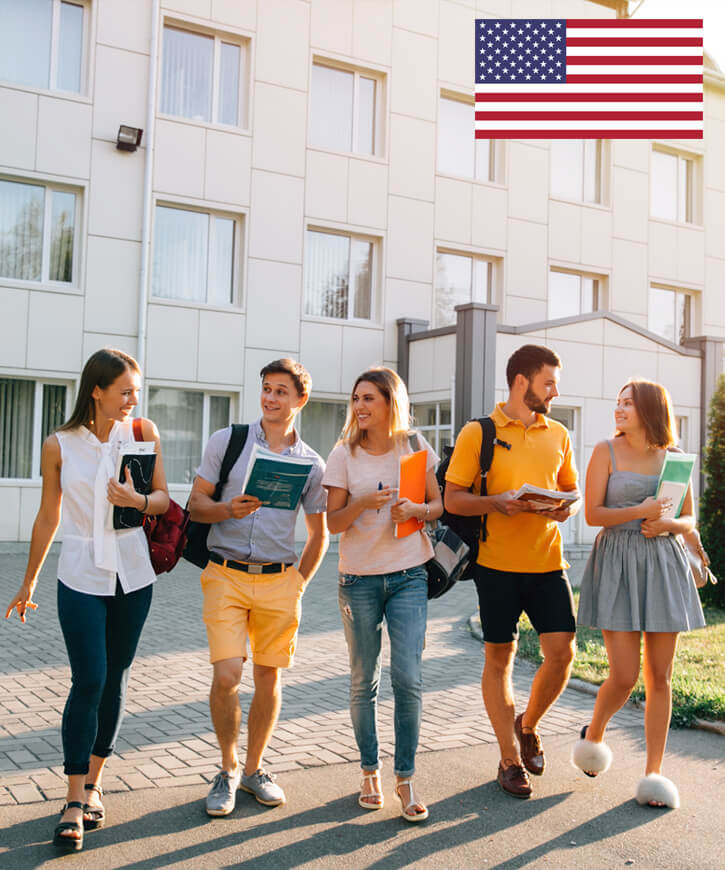 For Indian students, the United States is a significant factor because it blends complex geography and community with a reputation for academic excellence. For students seeking a Master's degree, the United States is a common option. With a large number of international students participating in programs all over the country, it's a melting pot of ethnicities, nationalities, races, classes, and opinions.
No matter what program of study interests you, you're sure to find something that meets your needs. The USA is particularly renowned for a large number of non-traditional options for pursuing a Master's degree, such as part-time studies, online programs, and distance learning options. According to the Council of Graduate Schools (CGS), around 15% of all graduate-level students in the US are international.
US universities and colleges are known for their academic excellence and quality assurance. A degree from an accredited US university is not only recognized but also sought after, by employers worldwide.
The long-term career prospects of a student are enhanced as the method of teaching is designed to apply theoretical knowledge and develop self-confidence, independent thinking and cross-cultural communication skills.
A large number of scholarships, fellowships and assistantships are also available to international students. They are also eligible to work part time during studies.
US. universities welcome international students for pursuing higher education in the USA and have support systems that help students to adjust comfortably to life in the U.S. Services at the international student office help students transition to the new environment. Support is offered throughout the year from organising orientation programs to assistance with academic writing and building resumes as students get ready to graduate
American universities are widely known for the quality of their teaching and research. The United States is the number one and largest destination for international students seeking higher education overseas. The education system in USA is the most versatile and flexible higher education system for international students in the world.
Whichever course you choose, you'll experience a unique kind of education. Studying in Australia promotes innovative, creative and independent thinking. You'll learn to work as part of a team, to communicate effectively with others and to develop the practical skills and intellectual abilities you need for global success.
Available Programs
The most popular subject to study in the USA for international graduate students in Engineering, Business, followed by courses relating to Physical and Earth Sciences.
Higher education in the USA for Indian students usually ranges around these eminent fields:
Biological and Life Sciences: This field studies the interaction between humans and the earth. Students explore the structure, function, behavior, and evolution of cells, organisms, populations, and ecosystems.
Business Studies: It is the study of Economics and Management, through which the student is equipped with the essentials to be a business professional.
Economics and Administration: The students learn to analyze and solve problems of products and international markets in multinational and international companies.
Energy: An Energy degree focuses on energy efficiency issues by studying ways to improve the ecosystem and reduce the load on energy.
Engineering and Technology: Study in the USA for Indian students is prominent in the said field. It prepares the student for the technologically oriented prospects of the world. The USA leads the world on the list of "Most Technological Innovations".
Fashion: Fashion Studies, include Designing, Marketing, and Production of clothing. The USA is the Centre for trends and style, with Hollywood and its celebrities setting the style statement.
Humanities and Social Sciences: This is a wide area of research that includes the anthropology of humankind as well as the disciplines of culture.
Law: Study, understanding, and description of complex topics, critical thinking, and practical problem solving are all examples of general skills..
Management: The course builds on existing communications and consumer behavior models in order to explore many of the issues facing a modern-day manager.
Marketing and Communication: Communication is a set of activities involved in managing and orchestrating all internal and external communications aimed at creating awareness in prospective markets.
Natural Sciences: It is an attempt to understand how the world and universe around us work.
Professional Studies: It is a field of study used to classify academic programs which are applied or interdisciplinary in focus. The term can also be used for non-academic training for a specific profession.
Sport: Study in the USA for this field of education concerns the business aspects of sports and recreation.
Tourism and Hospitality: These courses cover the fundamentals of Tourism Economics, Food Service, and Legal Issues.
Opportunities
The United States of America has one of the world's strongest economies. White-collar workers, such as administrators, doctors, mathematicians, financial managers, software publishers, computer engineers, among others, earn the most money in the United States.
The United States has long been a leader in telecommunications, medicine, child care, and genetics.
The USA has also been on the forefront in telecoms, medicine, health care and genetics. Study in USA for Indian students includes on campus jobs as well. Students are allowed to work 20 hrs. per week during semester (on-campus). On-campus jobs may include teaching assistantship or research assistantship where a student is paid on an average $8 to $10/hour.
Thus, students can approximately earn $ 500-$ 600/month or can get a waiver on their tuition fees. With this, a student who decides to study in USA can also undertake an internship in the related field which may be paid. During vacation, the student is allowed to work for 40 hours per week.
Study in USA from India after graduation, enables students to work for 1 year popularly known as OPT (Optional Practical Training). Students with certain degrees in the STEM (Science, Technology, and Engineering & Mathematics) field are allowed to work for 36 months. On completion of their OPT, students can apply for a H1 B visa (Work Permit Visa) for work.
Education Expenses in USA
Tuition Fees
The USA is a humongous education hub. An increasing number of students study abroad in USA, resulting in the country having one of the highest numbers of international students. Students can pursue undergraduate, postgraduate and research degrees. The USA has a unique climate, culture, history and economy. The universities in the USA are broadly classified as Public and Private.
Public Universities
These are state-affiliated institutions that are financially supported by public taxes and are usually large in size. Study in USA through Public Universities normally offers students all levels of degrees across many different fields of study. Tuitions fees are usually less compared to private institutions. Examples: Pennsylvania State University, Ohio State University, University of California, Kansas State University, University of Texas etc.
Private Institution
A private university runs without the control of any government entity. Tuition fees at private universities tend to be much higher than at public universities. Examples: Long Island University, George Washington University, New York University, Carnegie Mellon University, etc.
USA (PUBLIC)
| | Tuition Fees in USD($) | Tuition Fees in INR(₹) |
| --- | --- | --- |
| UG | 15000-20000/Year | 10,65,000-14,20,000/Year |
| PG | 15000 - 25000/Year | 10,65,000-17,75,000/Year |
USA (PRIVATE)
| | Tuition Fees in USD($) | Tuition Fees in INR(₹) |
| --- | --- | --- |
| UG | 20000-30000 / Year | 14,20,000-21,30,000 /Year |
| PG | 20000-35000/Year | 14,20,000-24,85,000/Year |
Conversion Rate USD 1 - Rs 80.50/-
Living Expenses
On an average, a student spends approximately $15000 – 18000/year to study in USA. But the expenses also depend on the place i.e., if a student stays in a metropolitan city like New York, San Francisco, Los Angeles, etc the expenses could go up to $20000 in comparison to a student studying in a suburban area where the expenses around $10000 to $12000 / year. Higher education in USA for Indian students often involves living in suburban areas, however this may add up to the student's transportation cost. But colleges do provide transportation passes for the same. Living afar would result in more time consumption.
Accommodation
During your study in USA, accommodation is of two types i.e., a student can either stay On-Campus (Halls of Residence/Students hostel) or Off-Campus (Home stay, Apartments/Flats). Staying Off-Campus is much cheaper but it is always advisable that the student should stay on-campus for the first six months to be able to interact with classmates and also be accustomed to the environment.
Health Insurance
Insurance Policy for international students is mandatory. Insurance costs approximately between $1000-$2000/year. It is advisable that students must include insurance from an Indian Insurance Company, but make sure that it covers medical expenses, personal accidents, dental treatment, study interruption, passport loss etc. Higher education in USA for Indian Students Insurance is basically cashless so a student does not need to pay money at the time of hospitalization.
VISA Process
Admission to a top-ranking US university takes you only halfway through your dream. The remaining important half to study in the USA is to obtain a study visa. Complexities and careless mistakes with a lack of sufficient knowledge about the student visa formalities cause undesired delays and even refusal of a visa in some cases.
For higher education in the USA for Indian students, an F1 visa is issued to international students who are attending an academic program or English Language Program at a US college or university. F1 students are expected to complete their studies by the expiration date on their I-20 form (Certificate of Eligibility for Nonimmigrant Student Status) which is provided by the US College or university.
The US Embassy in India has implemented a visa processing system throughout India, providing all visa applicants with an efficient, transparent, and standardized application process which simplifies fee payment and appointment scheduling through a new website www.ustraveldocs.com/in
Where to Apply
US Visa is an Interview based visa; thus, applicants have to apply to the US embassy for their interview
INTAKE:
Universities in the USA have 3 intakes:
Fall – August / September
Spring – January / February
Summer: April/May
The major intake is in Fall, but most of the universities are open for Spring and a few of them for Summer too.
Fee Structure
Course fees will depends on the course and colleges
Tuition Fee Average
$ 8,000 – $ 32,000 per year
English Requirement
All students must have the required English language proficiency to study in USA. TOEFL score of 70-80 for Undergraduate studies and 80-90 for Postgraduate is a decent score. IELTS score of 6.0- 6.5 for Undergraduates and 6.5-7 band for Postgraduate studies is required. Over 3000 institutions in the USA recognize the IELTS & PTE exam.
5.0 Bands and above
a) TOEFL score taken within the last 24 months with an overall Score of minimum 550 / 213 / 79 or above with the minimum validity of 6 months at the time of applying.
Or
b) IELTS score taken within the last 24 months with an overall score of minimum 6.0 (no band less than 5.5), with the minimum validity of 6 months at the time of applying.
If the student doesn't satisfy the above criteria for English he will need to study ESL at AIC.
Living expenses Average
$ 8,000 – $ 12,000 per year
we are dealing with many well reputed colleges and universities of USA.
Process
To obtain I-20 from University / College
To obtain SEVIS FEE Receipt
To Complete DS-160 Form
To Pay Visa Application Fees
Schedule Appointment
Attend Appointment Scheduled
Passport Collection if a visa is granted
Expert Guidance @ +91 9605418811, write to us @ studies@jagroup.info
Studying in the USA for Indian students can be very competitive. Each university/department has its own admission requirements for the course of study.
Entry Requirements + Eligibility to study in USA for Indian students
Undergraduate: 10+2
Graduate:16 years of education required
Some institutions accept 3 years of degree into their Master's program
Strong academic background
Good scores in entrance exams like SAT/ACT/GRE/GMAT & TOEFL/IELTS/PTE
Strong Recommendation Letters
Statement of Purpose/Personal Statement, Essays & Resume
Certificates of achievement & extra-curricular activity participation
Sound financial background
The Application Process
Study in USA application process consists of 9 stages
Pre-Application Stage: This stage comprises of a collection of information through education fairs, events, and consultants
Preparations for Entrance Exams.
Identifying the universities.
Preparing the Passport.
Undertaking Test and Universities Selection
This step consists of 2 sub steps: -
Test Training (GRE/GMAT/SAT/TOEFL/IELTS/PTE)
Test Training Consists of Computer Adaptive Tests, Mock Sessions, Seeking Application Material for test registration, Actual Test Registration
University Selection,
It consists of: Finalizing the subject, Checking the University ranking, Overall/Subject-wise ranking, Curriculum prospectus, Faculty profile, Student demography, Research demography, Research facilities at university, Funding option/cost, Infrastructure.
Application Documentation
In this step students have to collect and complete all the set of documents, namely: – Covering Letter, Application Fees, Application Form, Statement of Purpose, Essays, Resume, Recommendation Letters, Transcripts, Mark Sheets & Certificates, Bank Certificate, Affidavit of Financial Support, Test Score Report
Admission Confirmations:
This includes, receiving an Unconditional Admit Letter, receiving and verifying University I-20 Form, Financial Aid/Assistantship/ Waiver letter.
Student Visa (F-1):
For higher education in USA for Indian students, this is the stage where students are required to complete the Visa process: Submitting the I-20 Form, Verifying Passport, Resume, Paying Visa Fee, Paying SEVIS Fee, Test Score Report, Academic Documents, Affidavit, IT Returns, Supporting Documents for all Finances
Lastly, students have to make Pre-Departure arrangements that include Accommodation, Air Ticketing, Insurance, Airport Pickup, Forex.
Expert Guidance @ +91 9605418811, write to us @ studies@jagroup.info