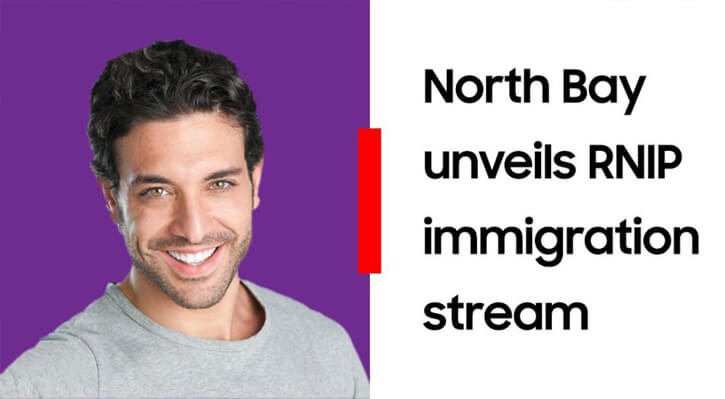 Ontario's North Bay begins accepting RNIP applications
North Bay in Ontario is the latest community participating in Canada's Rural and Northern Immigration Pilot [RNIP] to launch the program. Of the 11 communities taking part in the RNIP, 10 are accepting applications.
The RNIP creates a pathway to Canada PR for skilled foreign workers that have the intention of working and living in any of the 11 communities that are a part of the Pilot.
Moose Jaw is the only community remaining to launch its RNIP program. As per an official statement by Moose Jaw RNIP, "Late in 2020 or early in 2021, we will begin accepting applications for a Moose Jaw community recommendation from individuals wishing to immigrate to the community through the Rural and Northern Immigration Pilot."
National Occupational Classification [NOC] codes in high demand in North Bay
North Bay is located in the province of Ontario in Canada. A mere 3-hour drive from Toronto, North Bay is projected as a "safe and welcoming community" of around 51,553 people. A vibrant city offering a balanced and healthy environment for living, working and raising a family.
As per Al McDonald, the Mayor, with an increasing number of individuals assessing the programs and services offered for immigration to the city, North Bay "is now a leading community of support offering settlement services to new residents from all parts of the world".
The community boundaries of North Bay for the RNIP consist of "the communities of North Bay, Callander, Powassan, East Ferris, Bonfield, West Nipissing and some unorganized townships".
The RNIP will bring in foreign workers into the community for filling jobs that could not be filled locally. In terms of work overseas in North Bay, there is a high demand in the community for jobs in certain sectors, such as – legal professions, accounting, architecture, mining, aviation, technology, trades, health care, construction, and manufacturing.
Sector
NOC Code
Description
Healthcare & Social Work
NOC 3012
Registered nurses and registered psychiatric nurses
NOC 3413
Nurse aides, orderlies and patient service associates
NOC 3233
Licensed practical nurses
NOC 3112
General practitioners and family physicians
NOC 4152
Social Workers
NOC 4214
Early childhood educators and assistants
NOC 4212
Social and community service workers
NOC 4412
Home support workers, housekeepers and related occupations
NOC 3111
Specialist Physicians
Trades [licensed or unlicensed]
NOC 7312
Heavy duty equipment mechanics
NOC 7321
Automotive service technicians, truck and bus mechanics and mechanical repairers
NOC 7311
Construction millwrights and industrial mechanics
NOC 7611
Construction trades helpers and laborers
NOC 7237
Welders and related machine operators
NOC 7271
Carpenters
NOC 7241
Electricians
NOC 7251
Plumbers
NOC 7511
Transport Truck Drivers
NOC 7521
Heavy equipment operators
NOC 7535
Other transport equipment operators and related maintenance workers
Business Administration
NOC 111
Auditors, accountants and investment professionals
NOC 121
Administrative services supervisors
NOC 1311
Accounting technicians and bookkeepers
Information Technology
NOC 0213
Computer and information systems managers
NOC 2147
Computer Engineers
NOC 2171
Information systems analysts and consultants
NOC 2172
Database analysts and data administrators
NOC 2173
Software engineers and designers
Open NOC* [maximum 10 applications to be accepted] *Applicants with a job offer not listed above to be considered at the sole discretion of the Community Recommendation Committee.
-
For high skill level jobs. For example, pilots, aviation technicians, chefs, engineers etc.
Note. – The NOC codes under consideration by the North Bay RNIP are subject to change and will be updated as per the demand from employers.
There is no requirement of being within the community at the time of applying. An individual might apply to North Bay RNIP both from within the community as well as from overseas.
Only eligible businesses in the community might take part in the RNIP.
Basic 4-step process for applying for Canada's Rural and Northern Immigration Pilot [RNIP]
STEP 1: Meeting eligibility requirements that are –
Laid down by the IRCC
Community-specific
STEP 2: Finding an eligible job with an employer in a participating community
STEP 3: Once a job offer has been secured, submission of an application for a recommendation to the community
STEP 4: If community recommendation received, applying for Canada permanent residence
While the IRCC eligibility criteria for the RNIP is general and similarly applicable to all under the Pilot, each of the participating communities have their own individual requirements that have to be fulfilled as well.
A total of 11 communities from 5 Canadian provinces – Ontario, Alberta, British Columbia, Saskatchewan, and Manitoba – are participating in the RNIP.
Of these, 10 have started accepting applications for the RNIP.
| | | |
| --- | --- | --- |
| Community | Province | Status |
| Brandon | Manitoba | Accepting applications |
| Claresholm | Alberta | Accepting applications |
| Altona/Rhineland | Manitoba | Accepting applications |
| Moose Jaw | Saskatchewan | To be launched |
| North Bay | Ontario | Accepting applications |
| Sault Ste. Marie | Ontario | Accepting applications |
| Sudbury | Ontario | Accepting applications |
| Thunder Bay | Ontario | Accepting applications |
| Timmins | Ontario | Accepting applications |
| Vernon | British Columbia | Accepting applications |
| West Kootenay | British Columbia | Accepting applications |
As per the June 14, 2019 News Release by IRCC [Immigration, Refugees and Citizenship Canada] announcing the Pilot, "This pilot will help attract people that are needed to drive economic growth and help support middle-class jobs in these communities."
On successfully securing a nomination through the RNIP, the applicant can expect to receive their Canadian permanent residence within 12 months of applying to IRCC.