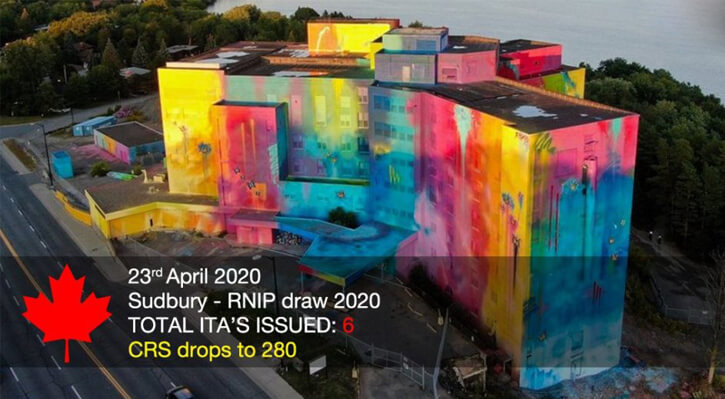 Sudbury in Ontario holds its first RNIP draw
On April 23, the community of Sudbury held its first draw under the Rural and Northern Immigration Pilot [RNIP]. Sudbury issued invitations to 6 eligible immigration candidates. Those selected have been invited for applying for a community recommendation for Canada PR.
The minimum score required was at least 280. Each of the communities taking part in the RNIP has their own criteria for the selection of candidates. Sudbury follows a points-based system.
A tie-break rule was applied in the draw. If 2 or more candidates had the lowest score, the cut-off would be as per the date and time of their submitting the application. The tie-break in this draw was April 15 at 4:28 pm local time.
Launched on March 23, Sudbury's RNIP program is for immigrants and their families that wish to live in Sudbury for the long-term. Valid job offer from an employer in Sudbury is required. The job offer must be in an eligible occupation in an eligible industry.
Total 11 communities from 5 provinces – Ontario, Manitoba, British Columbia, Saskatchewan and Alberta – are participating in the RNIP.
The participating communities are –
| | |
| --- | --- |
| Community | Province |
| Vernon | British Columbia |
| West Kootenay [Trail, Castlegar, Rossland, Nelson] | British Columbia |
| Thunder Bay | Ontario |
| North Bay | Ontario |
| Sault Ste. Marie | Ontario |
| Timmins | Ontario |
| Claresholm | Alberta |
| Sudbury | Ontario |
| Moose Jaw | Saskatchewan |
| Brandon | Manitoba |
| Gretna-Rhineland-Altona-Plum Coulee | Manitoba |
Sudbury is one of the 3 Ontario communities that have recently launched their RNIP program. Thunder Bay and Timmins are the other communities in Ontario that have also begun accepting RNIP applications.
Currently, only 3 of the 11 communities participating in the RNIP are not accepting applications. These are –
Moose Jaw [Saskatchewan]
North Bay [Ontario]
West Kootenay [British Columbia]
Sudbury is the largest city in Northern Ontario. The economy in Sudbury is lead by tourism, finance, mining and other industries.
With 8 out of the 11 communities participating in the RNIP accepting applications, it is worth considering getting Canada PR in 2020 through the RNIP.
The processing time for Canada permanent residence under the RNIP program is from 12 to 18 months.