Thinking about studying abroad? The UK is a popular destination for international students, and for good reason. Here are just a few of the many benefits of studying in the UK:
1.World-class education: The UK is home to some of the best universities in the world, and a degree from a UK institution is highly respected internationally.A diverse and welcoming culture: The UK is a diverse and welcoming country, and you'll have the opportunity to meet people from all over the world while you're studying here.
2.Affordable tuition: Tuition fees for international students in the UK are generally lower than those in other countries, making it an affordable study abroad destination.
3.Quality of life: The UK has a high quality of life, with a range of cultural and recreational activities to enjoy during your studies.
4.Employment opportunities: A degree from a UK university can open up doors to employment opportunities both in the UK and abroad.
Whether you're interested in pursuing a degree in business, engineering, arts, or something else entirely, the UK has a program that's right for you. So why wait? Start your journey to studying in the UK today!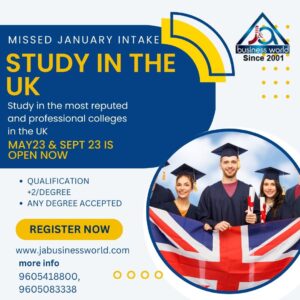 Read More