Quebec Immigration Investor Program
Applicants who have acquired entrepreneurial, investor, or self-employed experience and wish to settle in the province of Quebec can apply for the Quebec Investor Program.
Candidates will receive a Quebec Selection Certificate (Certificate de selection du Québec, or CSQ) once they fulfill other criteria to qualify for this program. Quebec certificate of selection is an official document issued by the government of Quebec that allows an individual to acquire a Canadian Immigration (Permanent Resident) Visa once health and security aspects of the process have been completed.
Primary Requirements To Qualify
Investment Provision: Applicant is required to commit to make an investment of $800,000 CAD into passive government guaranteed investment for a period of 5 years with no interest.
Net Worth Clause: Must possess a legally acquired net worth of $1.6 million CAD.
Perquisite Experience: The candidates must have at least 2 years management experience in the last 5 years with an entity having minimum 2 employees (fulltime). Such entity can be a government agency, international agency, department, etc.
Should intend to settle in Quebec
A successful medical examination along with security checks.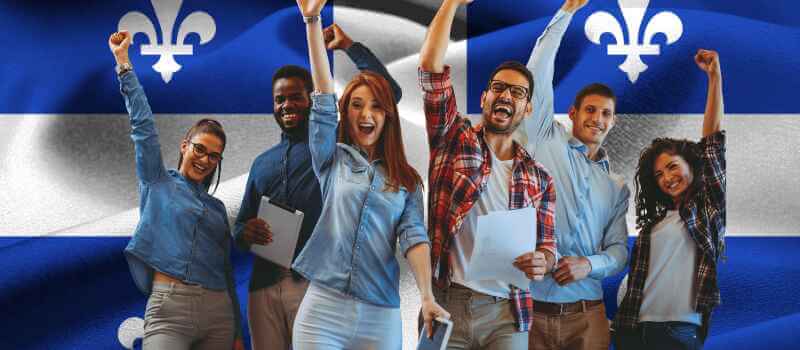 Key Benefits
Permanent Residency in Canada: The applicants selected under Quebec Investor Program can acquire a permanent residency in Canada along with their families. It's an added advantage as the applicants and their families can enjoy the access to free healthcare, education, and other benefits that permanent residents have.
Investment is Risk Free:Quebec Investor Program offers a risk-free investment. The Investment is guaranteed by the government. Moreover, the investment amount is not only low compared to other investment programs, but is also returned after 5 years.
Language Ability:The applicant with "advanced intermediate" proficiency in French won't be subject to the cap.
There is no waiting period: Like most of the other investor immigration programs Quebec Investor Program doesn't apply prerequisites for permanent residency, i.e. creating jobs, etc.
Get in touch with our team of expert consultation for more information on Quebec Investor Program
Quebec Entrepreneur Program
The Quebec entrepreneur program is a program developed by government of Quebec and National government of Canada allows the foreign nationals to migrate to Quebec as business owners.
The program is intended to attract the entrepreneurs who wish to develop or purchase a business in Quebec.
Successful applicants can apply for Canada permanent residence visa, provided they abide by the Quebec business immigration rules and all the Quebec Entrepreneur Program requirements were sufficiently met.
Quebec Entrepreneur Program Components
You can commence by starting a business or purchasing a company in Quebec. The applicants may also qualify for Quebec entrepreneur program if you previously purchased a qualifying business in Quebec.
Start or Acquire A New Business In Quebec
Applicant can create a new business in Quebec and his proposal must state that:
The business is of industrial (such as manufacturing), commercial (such as retail sales), or agricultural genre.
The business will be in Quebec.
The applicant can provide at least 25% of the capital equity in business, either by himself or along with the spouse.
The capital equity has a value of $100,000
The applicant must manage the business on daily business or participate as a management and operations partner
Prior Business Acquisition In Quebec
Applicants can also apply if they have already acquired a qualifying share of a Quebec business and his proposal must state that:
The business is of industrial, commercial, or agricultural in nature.
The business must be in Quebec.
The business was not handled by another participant in the province under entrepreneur program during the past 5 years.
The applicant can provide at least 25% of the capital equity in business, either by himself or along with the spouse.
The capital equity has a value of $100,000
The applicant must manage the business on daily business or participate as a management and operations partner
Eligibility Criteria
The applicant can qualify for this program if they possess sufficient assets and have managerial experience in the operation of a business.
Assets:
The applicants must provide evidence that they possess legally obtain assets of value $300,000.
If you are with your spouse then the assets can belong to you individually, or to the spouse alone or to both of you jointly.
You must poove that you are financially self-sufficient to carry out your living expenses during your first three months of residency in Canada along with a capability to bear the expenses of your family members.
Managerial Experience
The applicants under this program must have at least 2 years' experience in operating a small business.
These two years of experience must be within five years prior to the date the business immigration Quebec application is submitted.
The experience must be in a legitimate business whether industrial, commercial, or agricultural and must hold at least 25% of the capital equity in the business.
The following duties must have been part of their experience: business planning, control and management of business finances, management of material usage, decision maker for HR.
Selection Factors
The selection factors for Quebec entrepreneur program are:
Age
Proficiency in French and English languages (see below)
Relevant education and training
Personal qualities and character
Knowledge of Quebec
Ties to Quebec
Quality of business plan
Other Essential Information
If an applicant fulfills the eligibility criteria and qualifies for Quebec entrepreneur program then the individual will be granted an interview wherein the applicant need to explain and defend their business plan to Immigration Quebec authorities.
Applicants eligible and selected for Quebec entrepreneur program can bring along an interpreter.
Making a market visit and performing a thorough research along with an appropriately crafted business plan is a key to getting selected under Quebec entrepreneur program.
Interested in Quebec Entrepreneur Program immigration to Quebec? Contact the team of experts at J & A to guide you through the procedures.
Self-Employed Persons Program
Migrate to Canada through Self-Employed Persons Program is for applicants who can migrate to Canada by generating their own employment in Canada.
According to Citizenship and Immigration Canada (CIC), to qualify for the Self-Employed Persons Program and migrate to Canada, the applicant must have either:
At least two years of experience of participation or self-employment in cultural activities or athletics.
The intention and ability to make a significant contribution to the cultural or athletic life of Canada.
OR
At least two years of farm management experience.
The intention and ability to be able to buy and manage a farm in Canada.
The applicant and the applicant's immediate family members must:
Complete and pass the medical exams
Complete and pass the security risk assessments
Demonstrate that they have sufficient settlement funds to support themselves and their family once they arrive in Canada.
Citizenship and Immigration Canada (CIC) assesses applicants according to the following criteria:
Experience in the chosen field (maximum 35 points)
Education (maximum 25 points)
Age (maximum 10 points)
Potential to adapt (maximum 06 points)
Language proficiency in English and/or French (maximum 24 points)

To prove language proficiency, the applicants must provide test results from any of the following:

The Canadian English Language Proficiency Index Program (CELPIP)
The International English Language Testing System (IELTS)
The Test devaluation de Français (TEF)
Applicants must earn a minimum of 35 out of 100 points in the Points Test if they want to immigrate to Canada as a self-employed person.
In addition to the criteria mentioned above, Citizenship and Immigration Canada (CIC) has categorized occupations that qualify for application under the Self-Employed Persons Program. These include:

Professional Occupations in Art and Culture
Librarians
Archivists
Authors and Writers
Editors
Journalists
Professional Occupations in Public Relations and Communications
Translators, Terminologists, and Interpreters
Producers, Directors, Choreographers and Related Occupations
Conductors, Composers, and Arrangers
Musicians and Singers
Dancers
Actors and Comedians
Painters, Sculptors and Other Visual Artists
Technical and Skilled Occupations in Art, Culture, Recreation and Sport
Library and Archive Technicians and Assistants
Technical Occupations Related to Museums and Art Galleries
Photographers
Film and Video Camera Operators
Graphic Art Technicians
Broadcast Technicians
Audio and Video Recording Technicians
Other Technical and Coordinating Occupations in Motion Pictures, Broadcasting and the Performing Arts
Support Occupations in Motion Pictures, the Performing Arts and Broadcasting.
Announcers and Other Broadcasters
Other Performers
Graphic Designers and Illustrators
Interior Designers
Theatre, Fashion, Exhibit and Other Creative Designers
Artisans and Crafts persons
Patternmakers – Textile, Leather and Fur Products
Athletes
Coaches
Sports Officials and Referees
Program Leaders and Instructors in Recreation, Sport and Fitness
Other Information:
The Quebec Self-Employed Program is designed for applicants who have the ability to immigrate to Quebec by generating their own employment in Quebec.
In order to qualify for the program, the applicant must have:
At least two years of experience in the occupation they intend to pursue including but not limited to athletics, cultural activities, or farm management.
A minimum net worth of $100,000 of legally acquired funds. The applicant's spouse's funds count towards this total.
The intention and ability to create their own employment by pursuing an occupation they possess experience in.
J & A Immigration Services provides a wide range of legal services internationally, including immigration, education and legal consultation.
By delivering comprehensive and up-to-date immigration advice and services to individuals, families and SME business owners worldwide, our Immigration Services are designed to equip our clients with thorough information enabling them to make informed decisions. We at J & A aim to make the complex process of preparing financial papers, authenticating documents, filling applications, obtaining visas, and acquiring work and residence permits as simple, quick and easy as possible for our clients.
For the last18 years, our teams of qualified consultants, skilled advisors and highly trained instructors have been consistent in delivering reliable immigration and education services. At J & A, our mission is to guarantee our client's a hassle-free experience by being there to answer questions and provide solutions every step of the way.
For more information on how to migrate to Canada through self-employed person program, please get in touch with our qualified consultants.